Still hopping along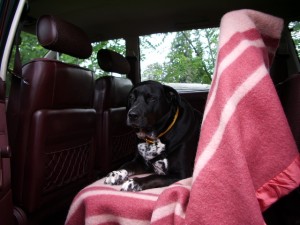 Hello Everyone,
This is a picture of me in the not too distant past. Yes my left leg is in the photo, but I don't miss it much anymore!
I am waiting for Mom to get in the car and take me for a ride, THAT has not changed!
I just wanted to update everyone on my progress. Dr Pam says my blood work is good enough to schedule my next Chemo a week from Friday.
Not worried or scared, it was a piece of cake last time.
Mom started me on the K9 Immunity yesterday, tasty, but I do believe my breath is a bit stronger than usual. Oh well Mom's isn't so great all the time either!
It seems there are quite a few of us Tripawds here in Western Washington, Mom is communicating with the other pawrents to see if we can all get together for a picnic, sniff-fest and some three-legged races. 🙂
So just an update to let you all know I am doing well and wish you the same.
JD (and YES I am 'One tough girl')