It doesn't get easier it gets different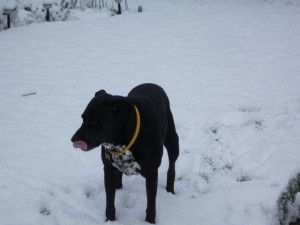 Each day moves me farther from the day this huge hole in my heart was created. The day JD's physical form was not here for me anymore. The day I had to accept the fact that I had to go on without my friend here next to me.
Each new day as I wake up without her snuggled up behind my legs, and the thumping tail slapping the covers as I open my eyes. I see her water bowl empty and think , oh I need to fill that, then the reality, no I don't. I truly can't say I miss her less with time. She is never far from my waking thoughts, popping in when I least expect her. I cry less frequently now, but am constantly surprised what brings on the tears.
Yesterday I returned to the Vet's office to pay the final bill for her last x-rays and the euthanesia. I knew it would be hard, but needed to face it. Tears began to roll as I drove into the parking lot, and they continued as I approached the gals at the front desk. I stated my business and then they asked me if I knew that the staff had voted to have JD be their 'Pet of the Month' for October. I had no idea and was so overwhelemed to have her honored in that way.
Just the month before JD and I sat in that same waiting area and I was reading the story and looking at the picture of that 'Dog of the Month'. I asked her 'So what's up with that? We have been coming here for over 10 years now. How do you get to be 'Dog of the Month'? Well the answer came when I needed to hear it. In just the blink of a tearfilled eye that news of her being honored meant everything to me.
This week has continued to bring condolance cards and emails as people hear the news. Including a very special one from Spirit Jerry, Wyatt Ray and Rene and Jim. Thanks, your kind words were so soothing.
I haven't shared here that I too had cancer, not OS but breast. I too had surgeries and chemo. And always by my side was my friend JD. I miss her so tremendously. It is a physical ache. But I am managing to move forward some days haltingly and some days with a confident step, as I learn to go it alone.
Spirit JD's mom